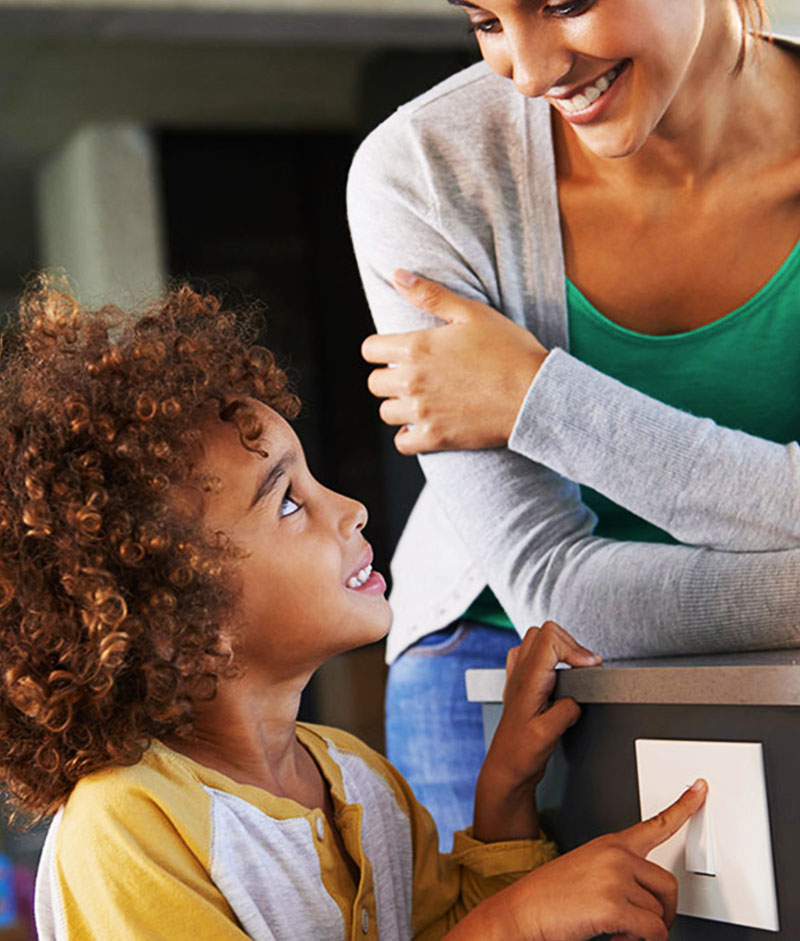 As a hard-working parent, it is always very difficult to constantly monitor and take care of your kids. Their safety is your number one priority and while you are not there, you tend to break out into a sweat thinking something dreadful may happen. If this sounds familiar, then you need a home automation system to alleviate your fears.
Home automation systems are not just a luxury feature, it also provides essential safety and security and can do much more for you and your family.
HERE ARE 5 WAYS A HOME AUTOMATION SYSTEM CAN HELP.
Get notified when the kids get home from school

By installing a home automation system, you will be able to receive notifications to your phone as soon as your kids arrive home from school and unlock the front door.
This can also trigger a series of events for example –When the front door opens you will receive a notification message saying Kids are home, from there we can link it to an indoor camera in the entrance that will automatically show you a live feed of your kids walking through the door safely. There is also an inbuilt microphone attached so you can have a 2 way conversation with them,remotely from your phone.
Keep the kids away from dangerous areas
Even when you are at home it is hard to keep an eye on the kids. Young kids are very curious and tend to wonder around the house which could lead them to dangerous areas are such as opening the outside door to the pool area or opening a cabinet which has medicines and poisonous substances inside of it or even playing with the stove and oven nobs.
One of the best things you can do with automation is install sensors in these high-risk areas, so you will be notified immediately when triggered through a notification or alarm.
Make bed time a breeze
Do you struggle putting your kids to bed at night? Getting them to log out of there electronic devices and creating a calm environment can be difficult. Home automation systems can come to the rescue and help you take back control of the house hold. Having a night time schedule in place every day of the week to turn off the lights, TV's and music devices automatically with
solve that problem. This is extremely beneficial to the parents who work odd hours as it will also help kids stick to a routine.
See who's at the front door
Installing an doorbell with a camera with automation attached is a great way to help your kids see who is at the front door or gate without opening the door. Once the button is pressed live footage can be linked to a mobile phone, tablet or internal touch screen which will help them Identify a stranger. This can also be linked to your phone, so you can see who's around while you're at work.
Get Homework Done

You can use your home automation system to create a conductive work environment. Schedule task lights to turn on and the TV, gaming consoles, music systems, and other distractions to turn off when it's time to sit down to work on school assignments. With the information provided here, you now know that a home automation system can do much more than just give you peace of mind. So quit worrying endlessly about your kids' safety,
get a home automation system installed and let it make your life stress-free!