Automated Living brings you
Home Intercom Systems Perth
Homeowners can readily enjoy the benefits of a home intercom system, controlling who does and doesn't enter their premises all from your fingertips. You can communicate with whoever is at your door through video and voice with ease, ensuring no one comes in that isn't meant to be there – talk about safe!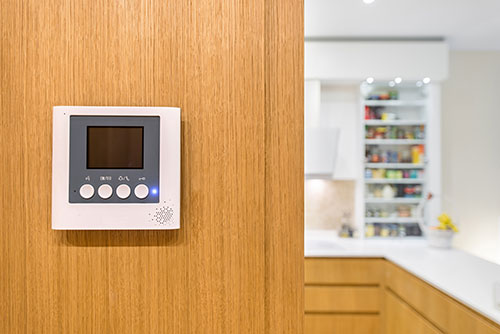 Audio Intercom
This is your most basic intercom which you have most likely come across. The audio intercom allows you to speak with whoever or whatever is trying to gain entry to your premises without physically opening the door.
Video intercom
Video intercom allows you to see a livestream of whoever is at the door, straight from your mobile phone or touch screen. These can also be paired with sound so you can hear and see who is trying to come in, allowing for no lapse in admission.
Wireless intercom
Wireless intercoms are the newest waves of intercoms hitting the market. You can place these wherever you wish on your premises, whether outside or inside your home. These are more expensive, but the added money buys you a far more versatile experience.
Intercom upgrade
If you already have an existing intercom system within your home, it's never too late to upgrade. With the growing capabilities of technology in this modern age, upgrading your intercom means you can link it directly to your smart home system and control everything from a single device. Upgrading for you might also mean going from audio to video, or from video to wireless to get the most out of your home intercom system.
Intercom System Installation
At Automated Living, we promote 2 intercom brands, depending on your lifestyle.
The first is Hikvision. Coming with a free app, this smart intercom can be integrated with your existing Hikvision camera system for added surveillance. Controlling your front door through electronic strikes latches, you can open it remotely through multiple indoor touch screens or through your mobile phone's app. As someone at the front door presses the button, your phone will ring and you will be able to talk directly to whoever it is through 2 way audio.
The second brand is from our higher-end range, Control4. This is a paid app for your phone which is more suited to higher-end homes. It does everything the Hikvision intercom can do, with the addition of linking to your home automated system. This works to flash the indoor lights when someone is at the door, in case you did not hear or see the alert from the touch screens.
If you need any assistance or support, we offer 7 days a week after sales support and guidance. We can also diagnose any faults remotely, if needed, making the handover as simple as possible.
We also provide training and guides on how to use the system, making sure you are 100% comfortable with everything before we leave. Any questions we are always just a phone call away.
Lifetime warranty on install
7 days a week after sales support
Training and guides on how to operate the system
Remote assistance availability