Automated Living brings you
Benefits of alarm systems?
Knowing what you prize most is safe and secure is a luxury everyone can afford – whether it's your family, home or your limited edition Star Wars collection, a home alarm system will keep it safe and secure. Without security alarms, homes are far more susceptible to break-ins, so investing just a little in a home alarm system will give you peace of mind, as well as reducing your insurance premiums. Our systems are easy to use and will help you sleep soundly at night. And the best bit? You can monitor it all remotely wherever you are.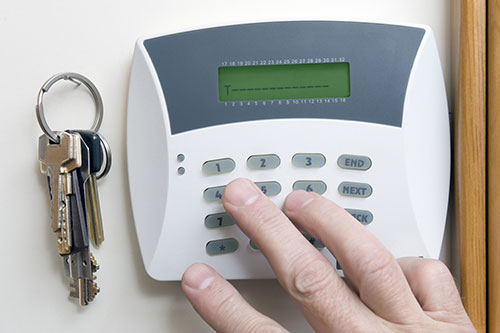 Home Alarm System Options
Our packages come in three tiers, depending on the level of protection you need for your household.
Level 1 - In-home Alarm System
Level one is the simplest of the three: an in-home alarm system. Set when you're leaving home, this security alarm works by detecting motion through infra-red sensors. This will detect instantly when someone has broken into your home, triggering an alarm. This package is great for those who are not home a lot of the time and want some added security to give them peace of mind.

Level 2 - In-Home + Perimeter Alarm System
Level two includes an in-home alarm system plus perimeter sensors. This includes sensors that cover the entirety of the home, including windows and doors, triggered as soon as something is out of the ordinary. This package is perfect for anyone concerned about their protection any time of the day, but works especially well at night as any interference will set off the alarm.
Level 3 - In-home + Perimeter + Outdoor Alarm System
Level three is the fully kitted out package, including a full in-home and out of home sensor coverage. This is ideal for anyone with larger back yards or sheds that need protecting. The sensors will pick up anyone as soon as they set foot in the property and set off the alarm. Level three is the ultimate home security solution, ideal for anyone that is leaving no chance to intruders breaking in and wants to opt-in for full protection.
Conclusion
If you're interested in putting in a house alarm system for better peace of mind but are unsure of what you need, we supply a free security audit of the home. No on-going monitoring fees are charged for our services, although we do offer after-sales services from our friendly, experienced and qualified staff if required.

Consultation
Either choose from one of our Smart Home Packages or we can design a custom automation solution just for you.

Installation
Once your ideal solution has been determined we install and program your new home automation system. Our technicians will then show you how to use your new smart home.

Enjoy
Sit back, relax and enjoy the comfort of your new home with smart home technology.
If you need any assistance or support, we offer 7 days a week after sales support and guidance. We can also diagnose any faults remotely, if needed, making the handover as simple as possible.
We also provide training and guides on how to use the system, making sure you are 100% comfortable with everything before we leave. Any questions we are always just a phone call away.
Lifetime warranty on install
7 days a week after sales support
Training and guides on how to operate the system
Remote assistance availability